Village of Spring Valley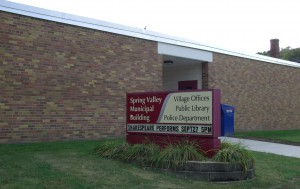 Luann Emerson, Clerk/Treasurer M-F 8:00 a.m. – 4:30 p.m.
clerk@vi.springvalley.wi.gov
Ruth Esanbock, Office Assistant  M-F 8:00 a.m. – Noon
The Village Board meets the first Wednesday of the month at 6:15 p.m. unless otherwise noted.  If you would like to be added to the agenda, please call the village office at 715-778-5635 ext 4.  All official notices will be in the Spring Valley Sun.
E121 South 2nd Street
PO Box 276
Spring Valley, WI 54767
(715) 778-5635
Hours: 8am-4:30 Monday- Friday
Attorney
Philip Helgeson @ Heywood, Cari, Anderson
Building Inspector
All-Croix Inspections
715-377-2152
Health Officer
Kevin Larson SVHRC
715-778-5545
Spring Valley Post Office
E124 Akers Street
(715) 778-4444
Website
US Army Corps of Engineers
Eau Galle Dam
P.O. Box 190
(715) 778-5562
Website
Veterans Affairs Regional Office (Post office)
E124 Akers Street
(715) 778-4444
Website
COMPANION ANIMAL CONTROL
The Village of Spring Valley has contracted with Companion Animal Control to respond to calls for stray dogs.  You will find information below along with contact information should you have a lost pet or find a stray.  The Village, police department, and CAC work closely together for the safety of all animals and it is our hope that you will all use this program responsibly.
 How do I contact animal control?
 Call Companion Animal Control at (715) 220-1332 or complete a contact form on the website https://www.companionanimalcontrol.com
Established in 2011, Companion Animal Control serves more than 30 cities/towns within Pierce County, WI, St. Croix County, WI and Washington County, MN.  Companion Animal Control responds to hundreds of calls each year to help animals, working closely with law enforcement to keep your community safe by responding to pick up stray animals, investigate concerns of cruelty/neglect, nuisance complaints and dog bites. 
On the https://www.companionanimalcontrol.com website you can find:
Photos and descriptions of all animals impounded

Steps to take if you've lost your pet

Steps to take if you've found an animal

Details about CAC & services provided

Resources such as spay/neuter services, dog training, community cat information

List of impound partners

List of rescue partners