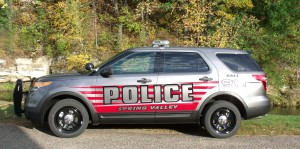 E121 South 2nd Street
Po Box 276
Spring Valley, WI 54767
(715) 778-5678
Dulcie Lilly, Full-Time Police Officer  officer2302@svpolice.org
COMPANION ANIMAL CONTROL   Please be advised if you call CAC or Western WI Animal Services the Village will get the bill and you will be charged back for the service you requested by calling in.
The Village of Spring Valley has contracted with Companion Animal Control to respond to calls for stray dogs.  You will find information below along with contact information should you have a lost pet or find a stray.  The Village, police department, and CAC work closely together for the safety of all animals and it is our hope that you will all use this program responsibly.
How do I contact animal control?
Call Companion Animal Control at (715) 220-1332 or visit www.companionanimalcontrol.com   Established in 2011, Companion Animal Control serves more than 30 municipalities across Washington County, MN, Pierce County & St. Croix County, WI.  Companion Animal Control responds to hundreds of calls each year to help animals, visit www.companionanimalcontrol.com for the following information & much more:
What to do if you've found an animal
Photos of impounded animals
How to find your lost dog or cat
Companion Animal Control service areas
Report an animal welfare complaint
Community resources such as discount spay/neuter
Impound & rescue partners
Where are animals impounded?
Western Wisconsin Animal Services, 651-248-2282.  Owners reclaiming there are required to make an appointment to reclaim their animal at the office in Baldwin, pay a reclaim fee and may be invoiced by the municipality to recuperate additional animal control expenses.  Animals are held for the state required holding period, then evaluated and transferred to local rescues for adoption.
VEHICLE REGISTRATIONS
      * The Spring Valley Police Department does vehicle registrations for local and immediate area residents.  We strongly suggest you check out the DMV web site as this can be done online.  PLEASE call ahead and make an appointment since officers are not always at the office. 
DMV website: https://wiscoinsindot.gov/Pages/online-srvcs/external/dmv.aspx 
DMV Phone:(414) 266-1000 or (608) 261-2583
---
The "incidences" reported in the Department Updates below include 911 calls, accidents, abandoned/disabled vehicles, property damage, police assist, coroner calls, disorderly conduct, EMS, general complaints, parking violations, traffic, weather, etc.
DEPARTMENT UPDATES:
44 Incident Reports for the month of March
37 Incident Reports for the month of February
New squad in service beginning of March
Old squad on auction site
P.D. garage cleaned out
Preparing for upcoming April & May events: Prom, Graduation, Annual qualifications
State hosted  software program updates
Internal technology upgrades taking place
Wellness/workout room implementation with Luann
40 Incident Reports for the month of September 2022
Build date for new squad is October 2022.  No Vin# has been issued as of yet.
48 Incident Reports for the month of August 2022
Dam Days logistics reviewed
Squad has been reserved by dealership for us
New body camera and software training attended
Security training attended
Continue with ordinance violations i.e.: Weed/grass and junk vehicle issues
New battery needed in current squad
Walk through conducted at new Emmaus building with member
Working with Luann on budget for 2023
New front door installed by public works
Awaiting quote for new squad camera for 2023/2024
50 Incident Reports for the month of June
July 4th weekend went well. No issues to report.
Continuity of operations is going well
Junk vehicle and nuisance weed ordinances are being addressed
Continue w/new squad research and information
Two grants were announced, Body Armor and the LEA Grant from state
Officer Lilly met w/vendors for technology upgrades within the department.  Awaiting quotes.
43 Incident Reports for the month of May
Officer Lilly has been in contact with the state.  They have approved extra time to complete the annual audit.
All officer annual re-certifications are complete
June schedule has been given to Clerk Luann
Continue research/quotes for technology required upgrade.
Village events for June have been provide to Pierce Co. Sheriff as a courtesy
Spoke w/Public Health re: vaccinations for employees, etc.  Clerk Luann can advise further
Confirmation that the 2022 Expedition has been cancelled.  In communication with the dealership about a new, possibly used vehicle and getting prices/numbers.
Following up on littering/illegal dumping incidents
Office areas have been painted and reorganized/cleaned up
Silver Fox Siren is working/fixed
We have aligned with Pierce County Emergency Management to have our village sirens tested monthly, the first Wednesday of each month at 1:oo
3/30/21-5/20/22 the police department has completed 32 vehicle registrations
34 incidents for the month of April, 2022
Chief Verges took the squad to Flagship Ford to fix a recall on the toe links
Tuesday, April 5, 2022, Chief Verges, with Sheriff Hove and Investigator Koch did a school safety presentation at the Spring Valley School for personnel from Spring Valley School District and personnel from other neighboring school districts
28 incidents for February, 2022
Chief Verges had General Communications of Eau Claire check the equipment on the current squad to determine what could be transferred and the cost to outfit the new squad when it arrives.  She will be having meeting with them and will report at next Board mtg.
The office is in the process of transferring over to TraCS as the new IT program along with Pierce County.
42 incidents for the month of December
Chief Verges completed the final report for the Covid Grant which provided our department supplies, such as PPE equipment, totaling over $1000.00
Chief Verges attended Diversity Training at the Pierce County Sheriff's Depart. on Dec. 14th.
The 2022 Ford Expedition has been ordered, and "if" all goes well, should be delivered in approximately 6 months.
Nov. 18th Rep. Clint Moses met with Officer Lilly at the Police Dept. to officially give her the First Responder of the Year Award.
Nov. 9th Officer Lilly went to Pepin for a night-time firearms training.
Nov. 4th, Chief Sharon, attended a Regional Chief's Meeting at CVTC.