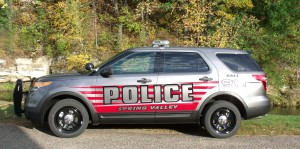 E121 South 2nd Street
Po Box 276
Spring Valley, WI 54767
(715) 778-5678
Dulcie Lilly, Full-Time Police Officer  officer2302@svpolice.org
NOTIFICATION DEMAND FOR PAYMENT SAMPLE
Worthless Check Document Final
COMPANION ANIMAL CONTROL   Please be advised if you call CAC or Western WI Animal Services the Village will get the bill and you will be charged back for the service you requested by calling in.
The Village of Spring Valley has contracted with Companion Animal Control to respond to calls for stray dogs.  You will find information below along with contact information should you have a lost pet or find a stray.  The Village, police department, and CAC work closely together for the safety of all animals and it is our hope that you will all use this program responsibly.
How do I contact animal control?
Call Companion Animal Control at (715) 220-1332 or visit www.companionanimalcontrol.com   Established in 2011, Companion Animal Control serves more than 30 municipalities across Washington County, MN, Pierce County & St. Croix County, WI.  Companion Animal Control responds to hundreds of calls each year to help animals, visit www.companionanimalcontrol.com for the following information & much more:
What to do if you've found an animal
Photos of impounded animals
How to find your lost dog or cat
Companion Animal Control service areas
Report an animal welfare complaint
Community resources such as discount spay/neuter
Impound & rescue partners
Where are animals impounded?
Western Wisconsin Animal Services, 651-248-2282.  Owners reclaiming there are required to make an appointment to reclaim their animal at the office in Baldwin, pay a reclaim fee and may be invoiced by the municipality to recuperate additional animal control expenses.  Animals are held for the state required holding period, then evaluated and transferred to local rescues for adoption.
VEHICLE REGISTRATIONS
      * The Spring Valley Police Department does vehicle registrations for local and immediate area residents.  We strongly suggest you check out the DMV web site as this can be done online.  PLEASE call ahead and make an appointment since officers are not always at the office. 
DMV website: https://wiscoinsindot.gov/Pages/online-srvcs/external/dmv.aspx 
DMV Phone:(414) 266-1000 or (608) 261-2583
---
The "incidences" reported in the Department Updates below include 911 calls, accidents, abandoned/disabled vehicles, property damage, police assist, coroner calls, disorderly conduct, EMS, general complaints, parking violations, traffic, weather, etc.
DEPARTMENT UPDATES:
48 Incident Reports for the month of August 2022
Dam Days logistics reviewed
Squad has been reserved by dealership for us
New body camera and software training attended
Security training attended
Continue with ordinance violations i.e.: Weed/grass and junk vehicle issues
New battery needed in current squad
Walk through conducted at new Emmaus building with member
Working with Luann on budget for 2023
New front door installed by public works
Awaiting quote for new squad camera for 2023/2024
50 Incident Reports for the month of June
July 4th weekend went well. No issues to report.
Continuity of operations is going well
Junk vehicle and nuisance weed ordinances are being addressed
Continue w/new squad research and information
Two grants were announced, Body Armor and the LEA Grant from state
Officer Lilly met w/vendors for technology upgrades within the department.  Awaiting quotes.
43 Incident Reports for the month of May
Officer Lilly has been in contact with the state.  They have approved extra time to complete the annual audit.
All officer annual re-certifications are complete
June schedule has been given to Clerk Luann
Continue research/quotes for technology required upgrade.
Village events for June have been provide to Pierce Co. Sheriff as a courtesy
Spoke w/Public Health re: vaccinations for employees, etc.  Clerk Luann can advise further
Confirmation that the 2022 Expedition has been cancelled.  In communication with the dealership about a new, possibly used vehicle and getting prices/numbers.
Following up on littering/illegal dumping incidents
Office areas have been painted and reorganized/cleaned up
Silver Fox Siren is working/fixed
We have aligned with Pierce County Emergency Management to have our village sirens tested monthly, the first Wednesday of each month at 1:oo
3/30/21-5/20/22 the police department has completed 32 vehicle registrations
34 incidents for the month of April, 2022
Chief Verges took the squad to Flagship Ford to fix a recall on the toe links
Tuesday, April 5, 2022, Chief Verges, with Sheriff Hove and Investigator Koch did a school safety presentation at the Spring Valley School for personnel from Spring Valley School District and personnel from other neighboring school districts
28 incidents for February, 2022
Chief Verges had General Communications of Eau Claire check the equipment on the current squad to determine what could be transferred and the cost to outfit the new squad when it arrives.  She will be having meeting with them and will report at next Board mtg.
The office is in the process of transferring over to TraCS as the new IT program along with Pierce County.
42 incidents for the month of December
Chief Verges completed the final report for the Covid Grant which provided our department supplies, such as PPE equipment, totaling over $1000.00
Chief Verges attended Diversity Training at the Pierce County Sheriff's Depart. on Dec. 14th.
The 2022 Ford Expedition has been ordered, and "if" all goes well, should be delivered in approximately 6 months.
Nov. 18th Rep. Clint Moses met with Officer Lilly at the Police Dept. to officially give her the First Responder of the Year Award.
Nov. 9th Officer Lilly went to Pepin for a night-time firearms training.
Nov. 4th, Chief Sharon, attended a Regional Chief's Meeting at CVTC.
56 Incident Reports for October 21
Chief Verges handed out candy at Trunk or Treat at the Health and Rehab Center in Spring Valley.  Officer Lilly handed out candy and glow sticks on Halloween
Both Chief Verges and Officer Lilly attended the TraCS Conf. in Stevens Point.  Highlights: citations, warnings, accidents, and reporting documents
Officer Lilly was awarded First Responder of the Year Award in Clint Moses District for her participation in a couple life saving incidents she did during Aug/Sept 21
Our department participated in the Annual Drug Take Back program.  Approximately 25# of pills/liquids were disposed of since April 21
Chief Verges did traffic control for the Elementary School's Annual Foote Fun Run and Halloween Parade
Oct. 5 Officer Lilly participated in Run with a Cop Program at UWRF that benefits Special Olympics
Oct. 1 Chief Verges participated in Sheriff Hove sponsored Cancer Run/Walk
Officer Lilly and Chief worked multiple hours Friday through Sunday of Dam Days.  Weather was great, which helped with a good turn out for the various events.  Overall everything went well with very few issues.
Chief Verges also assisted with traffic control for the Homecoming Parade and activities.
On September 28th Chief Verges took the squad to Flagship Ford for a recall inspection for a rear toe link  It looked fine but they will notify me once they receive the parts to get it replaced.  They did replace two blinker lights that were not working.
Chief Verges purchased 2 air purifiers for the PD office using the PPE Grant money that was left over after doing a modification to the application.
50 incidents for September
Squad has had major repairs
Both Chief Verges and Officer Lilly are working during various village events.
August 4, 2021 Quote from chief Verges: "Officer Lilly worked over 24 hours on July 28 & 29 to assist with storm damage.  I came in on July 29th to assist also.  I want to recognize Officer Lilly for her exemplary work and dedication to our community.  She worked her regular 8 hour shift on Wednesday, July 28th and then advised me that she would stay in Spring Valley to monitor any storms that would be headed this way, as she was concerned for the safety of the community, for the next few hours on her own time.  When the storm warnings went out for the area she went back on duty at 10:00 p.m and worked non-stop, helping with accidents and assisting community members and first responders as needed until 2:00 p.m. on Thursday  July 29th.  Her unwavering dedication to our community in their time of need goes above and beyond what most people would do and I want to thank her for the hard work and care she gave to so many during their time of need."
49 incidences were recorded for the month of July 2021
Firearms qualifications and radar certification were done in May.
Numerous speeding, wrong-way drivers, and other construction traffic problems culminating in 26 traffic stops.
PPE grant has been put to good use
Drug Take Back Month-all meds collected thus far taken to PC and delivered to Eau Claire 04/26
K/9 search, Flood Run, Prom covered
Office Lily completed mandatory Pursuit training
Squad in for routine repairs and maintenance 04/02
Local Chiefs mtg attended via zoom 04/01
38 incidences were recorded for the month of March 2021
Chief and Clerk had a phone conversation with Companion Animal Control to tie up loose ends
Work has been done on the squad
WIBR certification continues
Use of Force Policy updated and certified.  Now eligible to apply for federal grants .  Renewable every 3 years
An agreement regarding parking in the alleys was drafted, approved and signed by local businesses and the Village.
The squad was out for repairs , headlamps adjusted, spark plugs replaced.
Equipment was removed from the 2007 Ford squad and is being stored for 2nd squad.  Looking into a 4yr. Municipal Lease Program when/if we decide to purchase a 2nd squad.
On Wednesday, January 20, 2021 the Spring Valley Police Department with the Pierce County Sheriff's Department did a search warrant at a residence in the Village for a possible violation of a Domestic Abuse Injunction.  The warrant was served with no issues and evidence was found that was in violation of the Injunction.  A male subject was taken into custody for violating the Injunction.
40 incidences were recorded for the month of December 2020
Several trainings have been attended for statistics reporting, record management, and Lexipol.
SVPD received a PPE grand for $1111
Chief Verges and Officer Lilly worked election day to cover all polling hours.  There were no incidences.
COVID-related grant has been applied for and PPE have been purchased.
Training has started for a new mandated state and federal reporting system involving criminal statistics.
The squad has new tires
Chief was on duty for Halloween night
Chief assisted at the Elementary Fun Run/Walk on October 9th
ES committee agenda for Tuesday September 15 2020 Emerg Srvc agenda September 15 2020
A few bigger investigations were done in August.  Case information has recently been sent to juvenile services.  Additional follow-up on peripheral investigations continues.
Officer Lilly was on duty for 2 bigger bike runs that had anticipated large turn-out.
The department is working with the school to ensure safe pick-up and drop-off of the students.  COVID-19 procedures are in place at the school.

Per Pierce County web page: On Tuesday, August 25

th

, 2020 at about 8:16 pm, the Pierce County Sheriff's Office was notified of a vehicle versus Bicycle on Newman Avenue near 2

nd

Street in the village of Spring Valley, WI. It was determined that Joel Debrozzo, 47 years old from Spring Valley, WI, was operating a 2010 Buick Enclave Northbound on Newman Avenue when his vehicle was struck by a 10-year-old male juvenile on a bicycle who suddenly entered the intersection. The 10-year-old male juvenile, also of Spring Valley was transported by Spring Valley Area Ambulance Service to Mayo Hospital in Menomonie, WI with undetermined injuries. The Pierce County Sheriff's Office was assisted on scene by Spring Valley Area Ambulance and Spring Valley Fire Department.